A good pair of outdoor sandals are worth their weight in gold. While there are many popular brands, the major comparison in the outdoor industry is Chacos vs Tevas.
Both of these shoes are great options but there are some significant differences where you may want to choose one over the other. I hope that this review will help you choose!
Note that this article is based on my personal opinion and experience wearing the shoes. Everyone has their own opinion and preferences. You may have a totally different experience.
I have had my Chaco sandals for about four years now and absolutely love them. I use them for hiking and kayaking mostly but have also been using them for my theme park adventures to Universal Studios and Busch Gardens.
They are super versatile.
But in the spirit of research, I recently purchased some Teva sandals and have been testing them out. I went with the Teva Hurricane XLT2 instead of the Teva Original Universal sandals as they seemed more durable and better suited to outdoor activities.
FYI either one of these is a great gift idea for hikers!
Disclaimer: This post may contain affiliate links. If you make a purchase through this link, I may earn a small commission at no additional cost to you. Thanks for keeping Stuck On The Go going!
Chacos vs Tevas Synopsis
Like I said, there are pros and cons to both pairs of shoes. Here are my basic findings for each brand.
Chaco Pros
Heavy duty – great on hikes and in water
Sole grips well
Great fit with multiple adjustement points
Cons
Heavy & clunky
Straps can be difficult to get right
Teva Pros
Lightweight but still durable
Easy to get on/off with velcro straps
Cushy footbed
Cons
Takes longer to dry
Slides on your foot more
Chaco Sandals Overview
You really can't go wrong with Chaco sandals. They have plenty of options but it all boils down to whether you want the toe strap or not.
The Z1/ZX1 series does not have the toe strap while the Z2/ZX2 series does have it. I went with the ZX2 series because I wanted more stability.
These water sandals are durable and have a grippy outsole which is great in wet conditions. I have worn them on long hikes and on multiple kayaking trips and they provide great support.
They truly make great kayaking shoes and I've worn them when kayaking in Marathon, whitewater rafting on the Nolichucky, and rafting the Nantahala.
The two major downsides to these shoes that I've found are their weight – they are very heavy – and the straps can be hard to adjust.
You do get the hang of adjusting them eventually but as they get older the straps start sticking into place and it gets very hard to move them. This isn't a huge deal for me though and it's actually preferred.
I have the straps exactly as I want them now so it's nice that they don't move out of place.
These shoes are great for hiking, watersports, or if you need shoes to wear to theme parks.
Teva Sandals Overview
Teva sandals were the original sport sandal so they aren't going anywhere anytime soon. I chose the Hurricane XLT2 sandals just because they are a bit more rugged than the original sandals.
All of the straps on these Teva sandals are made from recycled plastic and save four plastic bottles from the landfill – thought that was pretty cool.
When I first put these on I definitely noticed that they didn't feel as secure towards the front of my foot. If you are used to the toe strap and crisscrossing straps of Chacos then these will feel strange.
If you like for your feet to feel free though then go with these shoes for sure. They are much more lightweight than the Chaco sandals but the grip on the sole is still top notch.
What I absolutely loved about these shoes is how cushy the footbed felt. They are so comfortable for walking long distances.
The only real issue I had is that I didn't like how they felt once they were wet. The footbed got sort of slick and I didn't like it rubbing against my foot.
The Outdoor Footwear Test
I've definitely put my Chaco sandals to the test and have really tried with the Teva sandals. Here is the meat of my Chacos vs Tevas review.
The Fit
With all the straps on Chaco sandals you really can get the perfect fit for your foot – especially with a ZX2 series. The ZX1s offer nice flexibility too though.
The footbed is comfortable but provides plenty of arch support. I usually wear an 8.5 or 9 and I went with a 9 as they don't come in half sizes. The shoe fits fine but the straps are just a touch long so it drags the ground after I tighten it.
You get a decent fit with the Teva sandals but they don't feel completely secured to your feet like the Chacos do. I went with an 8 on these because the footbed was just so large.
There are three different velcro straps that you can adjust – one at the back of your foot, one at the top of your ankle, and another above the ball of your foot.
Like my content? Join me on Facebook, Instagram, Twitter, or Pinterest! I even have a Facebook Group.
Durability
I couldn't be happier about the durability of my Chacos. Over the past few years I've worn them all throughout the summer on various outdoor trips.
They've been on short and long hikes, kayaking, camping, and white water rafting to name a few. While these shoes do look pretty dirty now, the straps are not fraying and there are no issues with the sole.
The Teva Hurricane sandals are built to last. Teva really is a quality brand so you won't be disappointed.
You can take these through any terrain you'd like and they will hold up for many seasons.
Traction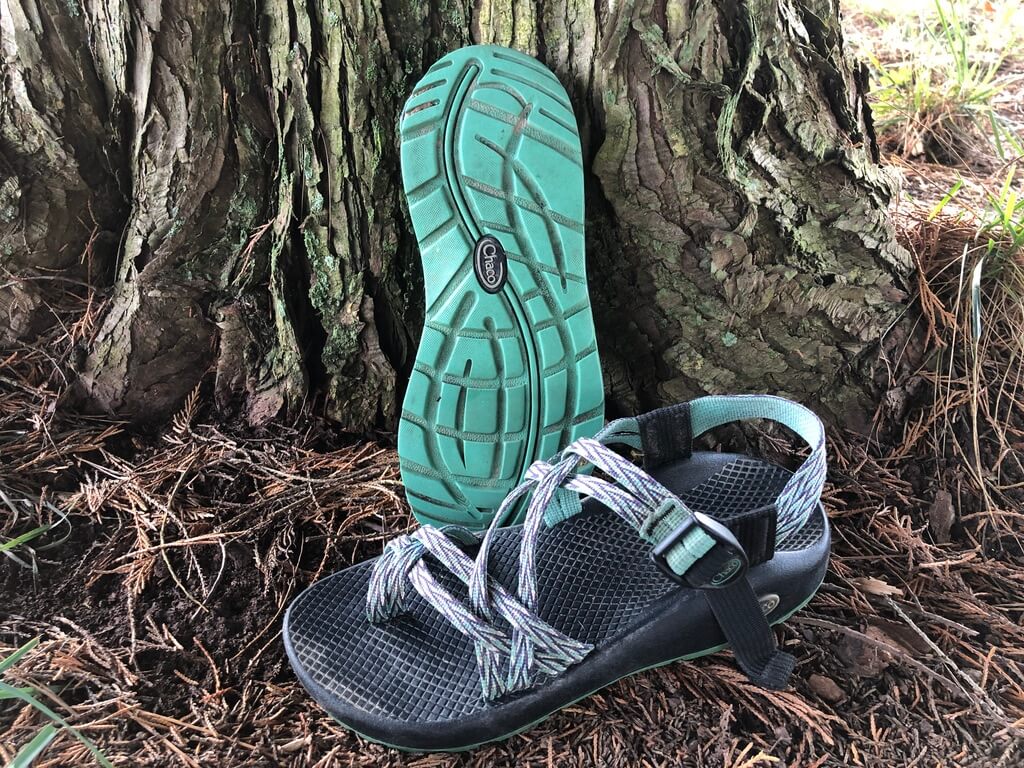 The outsole of the Chaco sandals is the company's own creation called ChacoGripTM which is a non-marking rubber compound.
I was just wearing these while walking over some rocks at the base of a waterfall and can attest that this stuff WORKS. Before I placed my foot somewhere I would test out whether it would grip or slip and it gripped every time – even though they were wet.
I was very impressed.
I was worried about the traction in the Tevas and my feet slipping since I didn't feel that they were held in well. However, I was pleasantly surprised since I've been able to climb up dirt/rock ledges pretty easily. Even after the shoes got wet!
I was hesitant on the slick rocks but so far, so good. These are great trail shoes for water situations.
Comfort
After the initial break in period where my feet were getting used to these sandals, I found that they are really comfortable.
It does take some time to get the straps just right and to get used to the footbed. I have heard that the footbed on the Cloud version is much better but have not tested it out for myself.
However, if I still don't get the strap cinched down tight enough and I am wearing them for long periods, the pattern of the footbed will rub against the bottom of my foot which is uncomfortable.
Pretty much, a good fit is essential to these being a comfortable shoe.
The Teva sandals are comfortable as soon as you put them on. With only three straps, it doesn't take long to get the right fit and then the footbed sort of molds to your foot.
There isn't as much arch-support with these but like I said, perfect for those who want to feel like they aren't wearing shoes.
Style
Style is really all about preference but I will say that I feel comfortable wearing Chacos with a casual dress. Especially if I am going to the beach and it's one of the flowy tank dresses that I use as a cover up sometimes.
I think they are cute strappy shoes – the only thing that isn't so stylish is the thick sole so they look a little clunky.
As for the Teva sandals, I would only wear these with shorts and a t-shirt when I'm headed outdoors. The style is just a little too retro for me.
Value
While Chaco sandals are pretty expensive, they have lasted well over a year and are showing no signs of giving out soon. They are also comfortable and provide the necessary support for your foot. To me, this is a great value.
The Teva Hurricanes, which are the closest to Chacos in my opinion, beat their opposition in price by at least $20. That's a pretty big deal in my opinion.
I think if you are on a budget then the Teva sandals are definitely the most bang for your buck.
Wet Conditions
If I am going to be out in wet conditions in warm weather then there's no question – I'm wearing my Chacos.
The straps dry pretty quickly – usually within an hour or so depending on sun/wind. They are also super stable in water conditions. It will likely happen after I've said this, but so far I haven't slipped yet while wearing them.
While the Teva sandals held their grip in wet conditions and did great when I had them in the water, they didn't dry quickly.
I don't like for my feet to be wet all the time and really don't like them to get cold. It wasn't a deal-breaker for me but it was definitely annoying.
Other Outdoor Activities
Chacos really are the ultimate outdoor sandal (and perfect gift for outdoorsy women!). They are the perfect hiking sandals, water sports, theme parks, you name it. I really did list them as one of the best shoes for theme parks.
If you are an adventurous outdoors woman (or man) then I can't recommend these enough.
Remove the fact that the Tevas don't dry as quickly as I like and these shoes are a great option as well. I would say if you are headed out on a hike that doesn't involve water then these would be perfect.
Chacos vs Tevas: Which Outdoor Sandals Are Best?
So which outdoor sandals are best? Which should you buy?
Personally, I would choose the Chacos over Tevas BUT here are a few factors to consider:
If you are okay with no toe strap and fewer straps in general then the Teva sandals are fine.
I would go with the Teva Hurricane XLT2 if you are on a budget. They are neck in neck with the Chaco sandals but much cheaper.
If you can splurge though, I choose the Chacos since they dry quickly and feel secure no matter what I am scrambling over.
Chaco Sandals
Teva Sandals
Like this post? Pin it for later!