Are you looking for the best places to kayak with manatees in Florida?
Every year, millions of people travel to Florida, which is one of the most popular places to visit in the world. According to Visit Florida, Florida received 104.5 million visitors in 2022, a 4.1 percent rise over the same time in 2019 and more than 15.3 percent higher than in 2021.
But did you know that it's also a kayaker's paradise? Particularly when kayaking with manatees, the gentle giants of the sea.
You might want to swim in the clear waters, bask in the Florida sun, or paddle up close and personal with these beautiful creatures. If your answer is yes, grab your kayak, paddle, and life jacket, and let's get ready for an unforgettable adventure!
While I've been to Florida many times and love visiting, my friend Adam at adamchristopherjones.com helped me out with this guest post.
So if you're searching for a unique and thrilling kayaking experience, here you go! These are the 11 best places to kayak with manatees in Florida.
Disclaimer: This post may contain affiliate links. If you make a purchase through this link, I may earn a small commission at no additional cost to you. Thanks for keeping Stuck On The Go going!
1. Crystal River
Discover the wonders of the world's largest wild manatee population in Crystal River, Florida. This 90-minute journey from Tampa is a must-see for anybody looking for personal contact with these gentle giants.
Due to its convenient location and many facilities, Florida has never been a better place to kayak with manatees.
Every winter, hundreds of manatees migrate to Crystal River in search of the warmth of the springs. With over 70 springs in the 600-acre bay, this site is a hotspot for manatee activity.
However, during peak manatee season, kayaking in the springs may be prohibited, but you will still get the chance to witness these amazing animals in other parts of the river.
Crystal River is one of the few places where you can actually swim with manatees! This makes it a great place for a special kayaking trip. So, if you're looking for a one-of-a-kind and spectacular time kayaking with manatees in Florida, go explore Crystal River.
2. Manatee Park
Step into the warm waters of Manatee Park, a haven for manatees during Florida's winter months. This one-of-a-kind site is powered by a power plant that keeps the temperature just right for manatees to thrive.
The best time to see these gentle giants is from December to February, but you could see them in the park anytime between November and March.
Although certain portions of the park are not open to kayaking, you may still see manatees outside of these restricted areas.
You can also enjoy the park's magnificent butterfly garden, nature walk, and ethnobotany trail in between kayaking sessions. Manatee Park is free to visit, although there is a minor parking cost. 
Upstream on the Orange River, away from the popular area surrounded by a fence where manatees gather, you can kayak at your own pace. Not only will you be surrounded by tranquility, but as you paddle by, a manatee might look at you with an interested eye.
3. Manatee Springs
Visit Manatee Springs State Park near Chiefland, Florida, for a fantastic trip to see gorgeous manatees in their natural environment. This state park has a first-magnitude spring with water from the Suwannee River that is easy on marine life.
Here, you can experience a once-in-a-lifetime chance to kayak alongside manatees and see their joyous motions. You can rent a kayak at the park or bring your own with your favorite accessories and launch it from the parking lot's northwest corner.
You can also appreciate the beauty of the manatees from the comfort of dry ground thanks to an 800-foot boardwalk overlooking the springs.
Aside from kayaking, Manatee Springs State Park has a plethora of other outdoor activities.
Moreover, you can explore the spectacular 5 miles of underwater caverns, have a picnic with family and friends in the park's picnic area, or go for an awesome trek on the 8.5 miles of nature paths. The park also connects to the Nature Coast State Trail, which is 32 miles long.
4. Homosassa Springs
Have a memorable kayaking excursion on Homosassa Springs' crystal-clear, spring-fed waterways. Keep a watch out for beautiful manatees and a broad assortment of wildlife, including birds such as ibis, herons, cormorants, and anhinga, as well as a tiny family of monkeys that live on Monkey Island.
This spot is on the Nature Coast Trail as well and is known for its family of manatees, places to watch birds, and ancient artifacts. It is located on the Gulf Coast, about 70 miles north of Tampa.
You'll get the opportunity to explore the Chassahowitzka River (Chaz), Crystal River, and Rainbow River, all of which have beautiful clear waters and the possibility of seeing manatees.
You may also experience the best of both worlds by staying at the Florida Cracker Riverside Resort, which offers standard hotel rooms as well as riverside suites with complete kitchens. With direct access to the river from the resort, you can just walk outside and push off in your kayak.
5. Wakulla Springs
Prepare for an experience at Wakulla Springs, a really unique Florida tourist site! This park is home to the largest and deepest freshwater springs in the world, as well as some of the most interesting animals in the world, like alligators and manatees.
There are several opportunities to explore and interact with nature at Wakulla Springs. There's something for everyone, from kayaking and riverboat trips to hiking, camping, and fishing. And, since manatees live in the springs all year, you're highly likely to have some great manatee encounters.
The finest place to watch manatees is near The Lodge at Wakulla Springs, beneath the diving tower. Swimming with manatees is not permitted in Wakulla Springs, though. But you can still immerse yourself in nature's splendor at Wakulla.
6. Longboat Key
Set off on an exciting journey in the seas around Longboat Key and Anna Maria Island, which are situated near Sarasota, Florida. As you kayak through the quiet, shallow waters, you may get up close and personal with wonderful species such as manatees, dolphins, crabs, and seahorses.
Guided kayaking tours like the Happy Paddler Longboat Key Kayak Tour are both informative and experiential.
The tour operators will take you to the greatest animal-watching areas, including a stop at Longboat Pass Bridge, where you may swim, take a beach stroll, or just rest and take in the beauty of the Gulf and Bay crossing.
If you're feeling more daring, they also provide sunset and mangrove kayak trips, as well as kayak fishing charters. They have top-notch kayak rentals and training for everyone, whether you're a novice or an expert paddler.
Kayaking with manatees on Long Boat Key is an excellent way to spend a vacation in Florida while discovering the hidden beauty of the surrounding islands.
If you also love kayaking through mangroves then you'll want to check out these places to kayak in Marathon, FL.
7. Blue Springs
It's easy to see why Blue Springs State Park is one of the best places in Florida to kayak with manatees. This park began when researchers watched manatees move up the St. Johns River, which led to the creation of this park.
While swimming with manatees is not permitted, kayaking allows you to see them from a safe distance. Blue Springs' water is incredibly transparent, making it easy to observe these gorgeous animals.
Up to 500 manatees have been seen in the region during peak season. The spring may be restricted to kayaks during these times, but you can still see them along the St. Johns River.
Some manatees come to the region in the summer to give birth and feed their young, so you could be fortunate enough to see one out of season!
You can learn more about manatees thanks to the abundance of research happening at Blue Springs. Also, you can view the manatees with the park's underwater camera, if you would prefer to stay on land!
8. Tarpon Springs
Take a bath in the warm waters of Tarpon Springs, Florida, and you'll be treated to a one-of-a-kind animal encounter. Here, you can kayak through its magnificent bayous and get up close and personal with manatees, dolphins, stingrays, and other aquatic species.
If you forgot your inflatable kayak, rent a clear one so you'll be able to see the manatees swimming right under you. See them as they ascend to the surface for a breath of air before plunging back down to the bottom.
Tarpon Springs is known not only for its amazing manatee population but also for its long history and beautiful Victorian-style mansions. Take a guided tour to learn not only the natural beauty of the region but also the history and architecture of Tarpon Springs.
This is the ideal spot for a fun-filled day and is just 45 minutes from Tampa. To get the most out of your visit to Tarpon Springs, book a trip with a recommended guide and paddle around its bayous near Craig Park.
9. Weeki Wachee Springs
Weeki Wachee Springs State Park is a beautiful place in Florida where many people go kayaking with manatees. Here, you can immerse yourself in nature and watch different animals swimming in the river.
Remember to give these protected species their space and try not to bother them, especially when they are sleeping.
The calm river is surrounded by a thick canopy of palm, oak, and cypress trees, making kayaking there relaxing and beautiful. The river is ideal for novices since it provides an easy float that can be managed with little skill.
Launch costs are $6 if you bring your own kayak or $22 if you rent a single kayak, which includes life jackets and paddles.
Once done, you can enjoy the free shuttle trip back to the park after your paddle, and keep in mind that all rentals must be returned 2 hours after the start time.
10. Ichetucknee Springs
Ichetucknee Springs State Park is where eight natural springs come together. It is a popular place to kayak with manatees. You may use the park's shuttle service and boat launch, as well as a nearby swimming hole and a series of caverns that you can see from the ocean.
The clear springs keep a stable temperature of 72°F all year, making it a great home for a wide variety of animals, including manatees, otters, and many bird species. Kayaks and paddleboards are available for rent on-site in case you need them.
Overall, Ichetucknee Springs State Park is a great place for people who love nature because it is a peaceful and beautiful place to get away from everyday life.
11. Ginnie Springs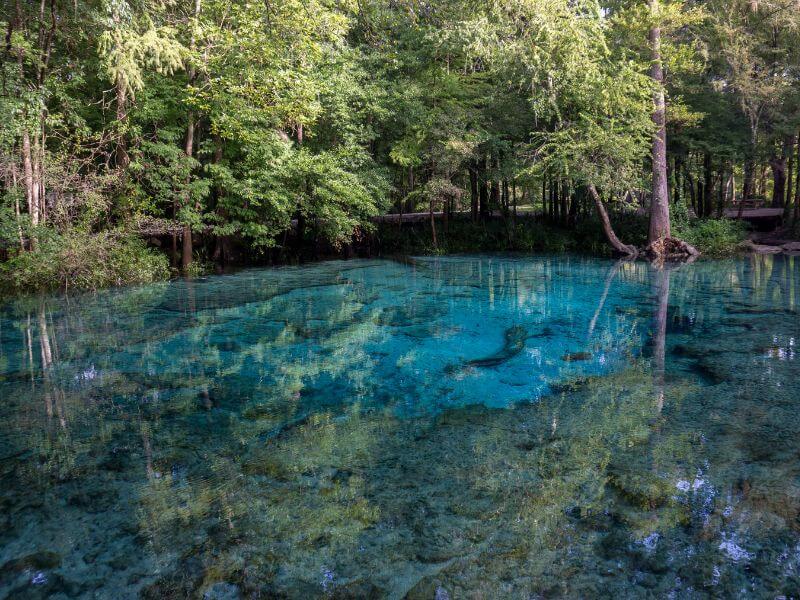 Last is Ginnie Springs. Florida's hidden jewel! This spectacular natural spring is one of the most beautiful in the state, and if you haven't had the opportunity to go yet, you should.
If you like the outdoors, Ginnie Springs is a haven for you! Whether you're a kayaker, canoer, camper, or diver, this natural haven has something for everyone.
You'll have everything you need for a day of adventure with gear rentals ranging from $8 to $30 for sports like snorkeling, kayaking, paddle boarding, and canoeing.
Ginnie Springs is a favorite weekend getaway for locals, and tourists from all over to tube down the Santa Fe River. Please keep in mind that the park is privately owned and that access needs a waiver.
Even though it may be a little tougher to see manatees at Ginnie Springs, they do sometimes come to hang out. So, come enjoy the peace and beauty of this hidden treasure!
When is the best time to see manatees in Florida?
Winter is the ideal season to watch manatees in Florida, especially from November to March.
During these months, the water temperature in the state can drop to 68 °F or lower, forcing manatees to hide in warm-water springs and power plant discharge canals. Because there are more manatees in a limited space, people may see them more easily.
However, keep in mind that manatees are a protected species, and it is forbidden to disturb or disrupt them in any way. The best way to enjoy these gentle giants in their natural habitat is to observe them from a safe distance.
How to kayak with manatees safely?
Here are some tips for kayaking with manatees safely:
Observe at a safe distance. Manatees are a protected species, and it is unlawful to disturb or disrupt them in any manner. To guarantee their protection, keep at least 2-3 yards away from them.
Be mindful of your surroundings. Manatees move slowly and might be difficult to notice, particularly in murky water. Keep an eye out for them and be alert to any signs of their presence, such as churning water or snouts breaching the surface.
Avoid loud noises. Manatees are sensitive to noise, and loud or unexpected sounds can startle them quickly. Keep your voice quiet and learn how to paddle correctly to prevent any unexpected movements or sounds.
Follow the rules. Follow any restrictions or regulations in place to protect manatees, such as designated viewing areas, speed limits if in a motor boat, and no-entry zones.
Support conservation efforts. Respect manatees and their environment by reporting any unlawful activity or disruptions to the relevant authorities.
By following these tips, you can kayak with manatees in a safe and respectful way, helping to protect these gentle giants for future generations to enjoy.
You'll also want to make sure you are wearing the right clothing and especially good kayaking shoes.
Final Thoughts
Florida is an excellent place, especially for kayak and manatee lovers. Some of the best places for manatees to live are in this state, like the clear waters of Homosassa Springs and the beautiful scenery of the Crystal River.
Some of these places aren't too far from Orlando so a trip to see the manatees pairs nicely with a Universal Studios trip.
Whether you're an experienced kayaker or a novice, each of these 11 spots has something unique and special to offer that will leave you with a lifelong memory. So pack your kayak, pack a lunch, and go out to one of these awesome kayaking spots!