Looking for the best kayaking shoes? There are so many to choose from that you can get analysis paralysis when shopping!
I've got you covered with this guide to the best shoes for kayaking. These shoes are designed to be quick-drying, and drain water fast – so you can focus on having fun instead of your feet.
A great pair of kayaking shoes makes a huge difference in enjoying your day out on the water. Whether you're headed kayaking in Marathon, FL or kayaking in Gulf Shores, AL, these shoes will get you there.
First, let's talk about what to look for in a new pair of shoes and then we'll go through which ones are the best – including my personal pick (my Chacos)!
Disclaimer: This post may contain affiliate links. If you make a purchase through this link, I may earn a small commission at no additional cost to you. Thanks for keeping Stuck On The Go going!
What are Kayaking Shoes Used for and Why Do You Need Them?
Kayaking shoes are used for a variety of reasons. The main reason to have a good pair of kayaking shoes is to protect your feet while on the river banks or if you're standing in the riverbed.
Shoes that drain and dry quickly are perfect for kayaking, as your feet will more than likely get wet and they can take a long time to dry out.
If you are going to be kayaking in rocky or sandy areas, shoes with a good grip will help you keep your footing and avoid slipping.
A good pair of kayaking sandals just makes the whole experience better!
Styles of Kayaking Footwear
Water Shoes
This type of kayaking shoe looks like your average tennis shoe. However, there are drain holes in the sides and possibly in the bottom to let the water out.
The shoe also may be made of mesh. This type of shoe is perfect for someone who knows they'll be doing a bit of hiking in addition to kayaking.
If you have to hike into your launch point or hike out at the end of your paddle then go with one of these types. I have the Astral Brewess 2.0 and love them. Here's the men's version.
Water Booties
Booties are typically made of neoprene and worn when the weather is colder alongside a wetsuit.
Honestly, I don't think I've seen anyone except whitewater kayakers wear the water booties so you can take that or leave it.
If you're a serious paddler and know you'll be going in cold weather, these may be a good investment. They provide very little protection though so don't plan on any long walks.
Water Sandals
This is my personal favorite shoe to wear when kayaking. I have a pair of Chaco ZX2s that I absolutely adore. I will say – they aren't for everyone though!
The straps on most water sandals will dry relatively quickly but it's super important that the shoe fits well or the straps will rub your skin.
Wearing sandals is the closest to going barefoot while still protecting the bottom of your feet.
Flip Flops
I want to mention these just because I DON'T recommend wearing flip flops when kayaking. Of course, you can and maybe they won't fall off but I wouldn't want to take that chance.
I like a shoe with at least a heel strap when I'm out doing anything active.
What to Look for in Kayaking Shoes
The things to look for are very similar to what you would consider for shoes to wear to theme parks since many of those are water shoes as well.
We'll go through what to look for in each.
Fit & Comfort
Finding the right shoes for kayaking can be tricky. Shoes that don't fit well will rub your skin or make you more likely to slip if they're too big.
You want a shoe that has the right amount of arch support for your foot, a wide enough toe-box, and snug-fitting straps if it's a sandal.
Being comfortable out on the water is important – it's aggravating when your feet hurt!
Durability
I don't know about you, but I hate it when shoes only last for a single season. When I buy shoes I expect them to last for 2 – 3 seasons at least.
Make sure to double-check reviews to see if anyone mentions durability as an issue. I know you'll always have a few that complain, but if it keeps popping up over and over then maybe you should skip those shoes.
Material
There are a variety of materials used in kayaking shoes. Some shoes are made of mesh to help them drain and dry quickly.
Mesh is also good for breathability, which is important when you're kayaking in warm weather.
Other materials used in kayaking shoes include neoprene, rubber, and synthetic materials. Neoprene is often used in booties since it's good for insulation.
Rubber is good for traction and durability and is used in a wide variety of kayaking footwear.
Price
If you are new to kayaking and don't plan to go that much then I wouldn't spend too much on a pair of water shoes.
However, if you go a few times a year then it's probably a good idea to invest in a nice pair that will last.
My water shoes tend to be in the $100 – $140 range and they've lasted well.
Style
Some people don't care how their shoes look, but I'm just not one of those people. If you're the same then style is definitely going to be a consideration.
There are plenty of shoes out there that are practical and look good too. It's all personal preference though.
12 Best Kayaking Shoes
Chaco ZX2 Classic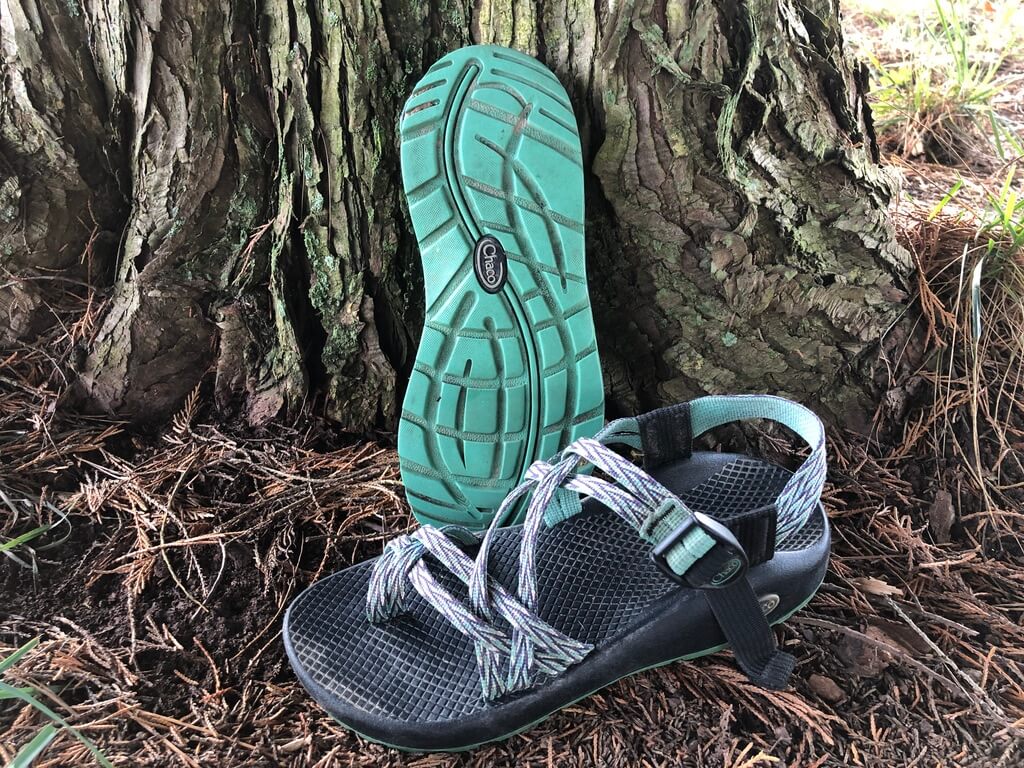 If you need great arch support then look no further than the Chaco ZX2. I've had these for a few years and live in them for summer activities. In the two photos above you can sort of see that I'm wearing them – the top one was from kayaking in Marathon, FL.
The many straps are designed to provide a customized fit – just be warned that it may take a few times of wearing them to figure out what works best. Just keep adjusting them until you find what's right.
The durable ChacoGrip™ rubber outsole means these shoes will last you through multiple years and you don't have to worry about slipping on slick rocks.
Okay, maybe a little but your chances are much less. So if you'll be doing any hiking this is a great shoe too!
These come with the toe strap which I really like, but it isn't for some people. If you don't want the toe strap then check out the Z1 Sandals. These are my number one pick just from personal preference!
They make the perfect gift for outdoorsy women and a great gift for hikers as well.
Astral Brewess 2.0
Another great multi-purpose shoe. If you'll be hiking around slick surfaces then you'll love the G.15™ rubber grip on these bad boys.
They are super cute and can be worn as everyday tennis shoes as well if you wanted. The top is made of hydrophobic canvas and mesh with a built-in sock liner.
Astral is primarily a whitewater company but these shoes will do well with any water activity. The links below are only for women's shoes but you can find the men's version is the Brewer 2.0.
Keen Evofit One Water Sandal
Keen is known for their quality outdoor/adventure shoes so of course they would be included here! The Evofit is especially great for water activities.
It's made to fit like a sock with a grippy rubber outsole on the bottom. The top part is made of a synthetic material that dries quickly.
The removable footbed is made of EVA material and provides a good bit of arch support. The shoe is machine washable too!
Teva Hurricane XLT2
You can't talk kayaking shoes and leave out Tevas. These have been a go-to adventure sandal since 1984.
While you can read all about my comparison of Chaco vs Teva – I'll go ahead and tell you, these are a great water shoe.
They're lightweight while not sacrificing grippy traction and the price tag isn't terrible either.
If you're on a budget, these are a great pick. They have tons of great patterns – just look at the one above!! – and a classic look.
One of the best things to do in Hattiesburg, MS is kayaking the Pinebelt Blueways and these shoes are great for going straight from the kayak into the city.
Teva Omnium Closed Toed Water Shoe
Now this one actually reminds me a lot of the Keen shoes. I'm not a huge fan of this style, but hey – takes all kinds to make the world go round.
If you're looking for an adventure sandal that can take on anything, the Teva Omnium is perfect for you.
It's made of quick-drying synthetic material so ideal for kayaking or any other water activities.
Plus, the rugged rubber outsole provides traction and stability since it's designed specifically for use in wet conditions.
Have no fear of those rocky river beds with these kayaking shoes!
Merrell Breakwater Strap
Looking for a versatile and grippy water sandal? Look no further than the Merrell Breakwater Strap!
This sandal features a Vibram outsole that provides excellent traction on wet or dry surfaces.
The velcro closure makes it easy to get a secure fit, while the woven webbing upper is both comfortable and quick-drying.
Whether you're hitting the beach or exploring a new trail, these sandals are sure to provide all-day comfort and reliable performance.
It looks like Merrell updated the design because recent reviews offer nothing but praise!
NRS Kicker Remix
Here is a water bootie option for you! This shoe may be more popular with whitewater kayakers.
There's nothing worse than cold feet. Whether you're paddling the Nolichucky in TN or the Nantahala River in NC, the NRS kicker remixes will keep your feet toasty warm.
Made of 3mm neoprene, these water booties will snugly fit around your feet. The drawstring closure ensures a tight fit, while the patterned rubber sole provides some traction so you don't slip and fall.
If you have a long hike in or out from the river then I don't think I would recommend these though! The sole doesn't give much support or protection from rocks and tree roots.
Body Glove 3T Barefoot
Are you looking for a minimalist water shoe that's easy to slip on and tighten? The Body Glove 3T Barefoot is it!
Minimalist shoes are the same as barefoot shoes and are supposed to mimic you walking without a shoe on – so literally barefoot.
It's made of quick-drying material with a drainage system, so it's a perfect shoe for kayaking.
While the style isn't the best (personal preference), it does come in a few different colors so there's that.
They won't break the bank either which is nice if you don't want to spend a lot on a pair of water shoes.
ALEADER Mesh Slip-On
These shoes look like sneakers but the top part of the shoe is made completely of fine mesh!
The midsole of the shoe is also mesh and the outsole is made of rubber with drainage holes along the entire footbed.
The only issue with these is that they don't dry very quickly. There are tons of fun colors though and they're pretty cheap.
If you don't go kayaking a lot and want a pair of shoes for just a few trips then these may be a good one to look at.
Neosport Neoprene Booties
If you're a serious whitewater kayaker, you need a pair of Neosport neoprene booties. They come in 3mm, 5mm, and 7mm thicknesses to keep you warm in cooler temperatures.
They're durable and have a heavy-duty zipper so you can easily get them on and off. These are similar to the NRS neoprene booties but these come up above the ankle.
Mishansha Water Shoes
Very similar to the ALEADER shoes, these slip-on water shoes look like sneakers and are made as a minimalist water shoe too.
They are very lightweight with two options for tightening – drawstrings and velcro. You'll also have drainage holes in the outsole.
Another brand with lots of great colors to choose from and they're reasonably priced. The outsole on this one is a little more durable and provides more protection than the ALEADER.
Speedo Seaside Lace 5
Another sneaker-like option, these Speedo Seasides are 70% textile and 30% neoprene. The upper portion of the shoe is made of mesh and the outsole is rubber.
These also slip-on and can be tightened with a bungee drawstring. Speedo is a trusted brand these look the most like a regular tennis shoe.
The only thing they're missing is the drainage holes in the bottom! You also want to make sure that the fit on these is right before you wear them long distances, otherwise they will rub the arch of your feet.
FAQs on Shoes for Kayaking
What are the best kayaking shoes?
This post covers a lot of great shoes for kayaking but my personal favorites are the Chaco sandals.
Once you get the straps situated just right these things are workhorses. I live in mine during the summer.
Can you wear sneakers for kayaking?
Sure you can! I just wouldn't want to get them wet. If they do, your feet will be pretty uncomfortable for the rest of the day.
This guide on what to wear white water rafting can also be applied to kayaking. The first time I went rafting I wore sneakers. Won't be doing that again.
What shoes should I use for a sit on top kayak?
Chaco, Teva, Astral, and Keen all make great kayaking shoes. You can't go wrong with any of those brands!
All of these shoes that I've suggested in the article work for sit on top kayaks! Though, I don't think I would wear the water booties in a sit on top.
Will wearing wet shoes cause chafing and irritation?
If you don't have the right fit in your water shoes, then yes wet shoes can cause chafing and irritation.
That's why the proper fit is so important! Don't be afraid to return shoes if you try them on and aren't happy with them.
Can I wash water shoes?
*Most* water shoes can be washed but be sure to check the manufacturer's guidelines! If I've lost the instructions then I typically google my specific shoe to find out if I can wash them.
Will my water shoes float?
Some will and some won't. If this is important to you then check the product description or search in reviews for "float."
How often should I replace my water shoes?
Depending on the quality of the shoe and how often you wear them, you'll likely want to replace your water shoes every 1 – 3 years.
If you don't wear them a lot then I would say they'll last 5 years or more!
Can I use water shoes for walking or other activities?
Of course! Like I said I use my Chaco sandals for everything in the summer. Hiking, kayaking, and adventuring of any kind.
Most of these shoes on the list are multi-purpose – I would say all but the water booties!
Can I use them in the shower or for swimming?
Yes! Water sandals are perfect for using in showers like when you stay at a campground. While I was camping in Shenandoah National Park I used my Chaco sandals.
You can use these while swimming too whether you go with the sandals or the sneaker style.