I've owned a pair of Birkenstocks ever since high school. They are some of my favorite sandals but my Chaco sandals serve their own purpose. In this Chacos vs Birkenstocks comparison, we'll look at what is the best use for each sandal.
While I haven't had my Chaco sandals as long, I've still had them for over four years. That's plenty of time to tell whether they are a quality shoe or not.
While there are many similarities between these shoes, each serves a different purpose in my opinion. Both are great, but there are certain situations where I wear each one. (Like Chacos are the perfect shoes for theme parks.)
So if you are looking at buying a pair of these shoes (or maybe both!) I hope this review helps you choose. Either are a great gift idea for outdoorsy women!
Disclaimer: This post may contain affiliate links. If you make a purchase through this link, I may earn a small commission at no additional cost to you. Thanks for keeping Stuck On The Go going!
Chacos vs Birkenstocks Synopsis
Here are the pros and cons for each brand. Both are great shoes and I love them but I think the specific purpose you want to use them for will be the determining factor.
Chacos Pros
Heavy-duty – great for hikes of any length
Can get the perfect fit with the straps
Great arch-support
Cons
Straps can be a pain to adjust
Very heavy shoes
Look a bit clunky
Birkenstock Pros
Extremely cute shoes with multiple styles
Easy to slip on/off (without a heel strap)
Molds to your foot
Cons
Not great for outdoor/adventure use
Doesn't do well in water
Chaco Sandals Overview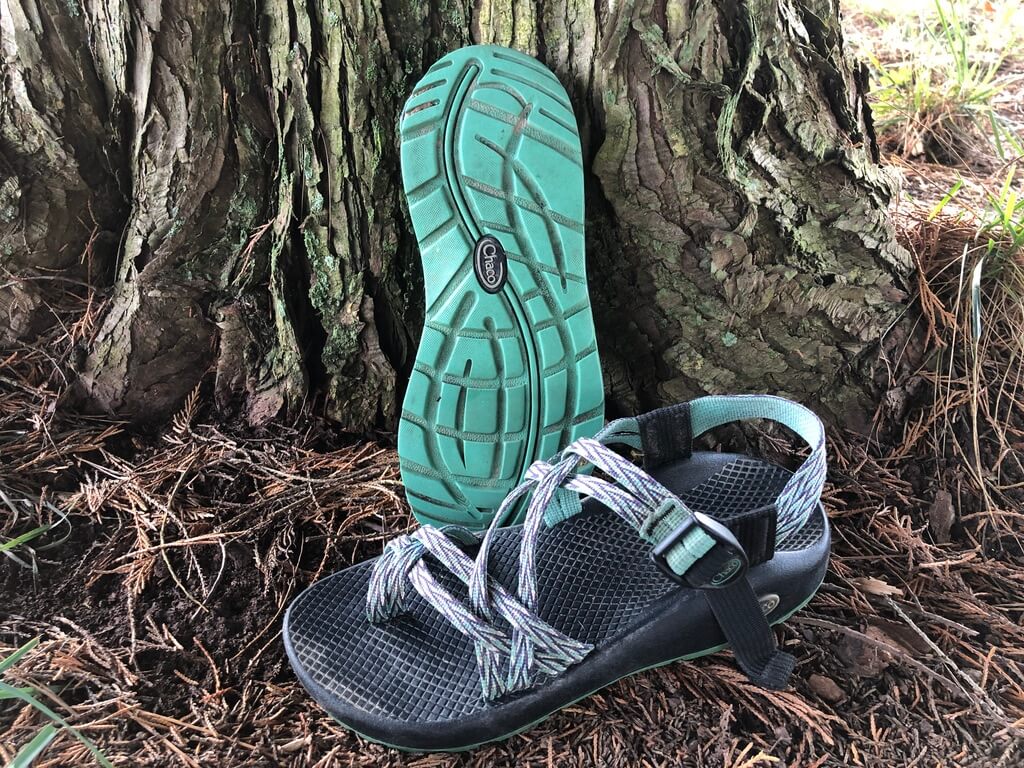 Chaco sandals are comfortable, provide great arch-support, and are very durable. They are top notch outdoor sandals that I wear hiking or when I'm doing anything near water like kayaking.
They have multiple different patterns but two major styles – one with a toe strap and one without.
The Z1/ZX1 series does not have the toe strap while the Z2/ZX2 series does have it. I went with the ZX2 series because they felt more stable for me.
I love the fast drying straps and the grippy outsole that makes walking through creek beds and over slick rocks a breeze.
They make the best (in my opinion) kayaking shoes and I've worn them kayaking in Marathon, rafting on the Nolichucky, and plenty of times down the Yadkin River.
The two major downsides to these shoes that I've found are their weight – they are very heavy – and the straps can be hard to adjust.
You do get the hang of adjusting them eventually but as they get older the straps start sticking into place and it gets very hard to move them. This isn't a huge deal for me though and it's actually preferred.
Once I got the straps exactly as I wanted them, I didn't touch them again and they've stuck in place. This means I just slide my foot in and cinch the final strap down.
🩴 Check prices on Amazon. // Check prices on REI. 🩴
Birkenstock Sandals Overview
Birkenstock sandals are great for walking around town and provide lots of arch support like the Chacos. You can easily dress them up or down which makes them a versatile shoe when traveling.
There are a lot more styles to choose from here but each one will require a break-in period. Personally I've owned the Arizona, Gizeh, and the Daloa styles.
My sister has had the Mayari style as well and I just got this style a couple of weeks ago. It's taken longer to break in than my other Birkenstock sandals have – the straps have been especially less comfortable. They are getting better though.
These are incredibly comfortable sandals but they don't last as long as I would like them to. If you do a significant amount of walking in them, they will only last a year or two.
Once they are worn out they wear blisters on certain parts of my feet so there is no stretching out the wear I get from them.
However, if you wear them just around town or to the office and aren't taking long walks then mine have lasted 4 – 5 years. They really are a staple sandal in my summer wardrobe – I wear them the most when going out.
👉🏻 Check prices on Amazon. // Check prices on REI. 👈🏻
The Outdoor Footwear Test
I've definitely put both my Chaco sandals and Birkenstock sandals to the test. Here is the meat of my Chacos vs Birkenstocks review.
The Fit
While all the straps on Chaco sandals may be annoying at first, they allow for the perfect fit for your foot. I especially like the toe strap, but some prefer the free feeling of not having one.
The footbed is comfortable but provides plenty of arch support. I usually wear an 8.5 or 9 and I went with a 9 as they don't come in half sizes. The shoe fits fine but the straps are just a touch long so it drags the ground after I tighten it.
Birkenstocks adjust by buckles and sometimes they don't have a notch quite where you need it. You can easily create a hole in the leather with a knife if needed.
Typically you can find a setting that is comfortable for your feet though. The real winner here is the footbed. It's made from comfortable material and after the break in period it really conforms to your foot.
It provides lots of arch support so they are great if you have issues with your feet.
Durability
I've put my Chaco sandals through the ringer and they haven't let me down yet. They go through dirt, mud, water, and anything else you can think of.
They've been on short and long hikes, kayaking, camping, and white water rafting to name a few. While these shoes do look pretty dirty now, the straps are not fraying and there are no issues with the sole.
Birkenstocks are much less rugged and I really only use them for street wear. I purchased a pair before my 5-week trip through Europe with EF Ultimate Break and they were perfect.
I was walking an average of 5-7 miles per day though and at the end of the 5-weeks those shoes were almost worn out already.
I did buy another pair of Birkenstocks while on the trip in Germany – since that's where they originated. This saved my first pair from being totally wiped out.
They definitely have a prime age though after the break in period and before the footbed gets too worn down.
Traction
The outsole of the Chaco sandals is the company's own creation called ChacoGripTM which is a non-marking rubber compound.
I've tested the grip on slick rocks during multiple hikes and am super impressed with how well it works. There have been plenty of opportunities for me to slip and it hasn't happened yet (knock on wood).
These are the perfect gift ideas for hikers since they are so grippy!
I would not recommend wearing Birkenstocks in slick areas. Like the footbed that wears down, the outsole also wears down over time. This makes them super slick and I have almost slipped while wearing these multiple times.
Comfort
After the initial break in period where my feet were getting used to these sandals, I found that they are really comfortable.
It does take some time to get the straps just right and to get used to the footbed. I have heard that the footbed on the Cloud version is much better but have not tested it out for myself.
However, if I still don't get the strap cinched down tight enough and I am wearing them for long periods, the pattern of the footbed will rub against the bottom of my foot which is uncomfortable.
Pretty much, a good fit is essential to these being a comfortable shoe.
Just like Chacos, Birkenstocks have a break in period as well. During this time the footbed is conforming to the shape of your foot.
I have heard if you take them in the bathroom while you shower and put them on after you get out, the hot steam helps the process. No proof that it works though.
I've also heard if you get them wet it helps but I wouldn't recommend that. The cork starts cracking quicker and it will turn your foot brown.
After you break these in though, they will be some of the most comfortable shoes that you own. I have regular sized feet – not too wide or narrow – and have loved each pair that I owned.
The Arizona style was probably my least favorite because they were a touch wide.
Style
Style is really all about preference but I will say I think the Birkenstocks win in this battle.
Chacos are a great outdoor shoe and I don't mind wearing them with a casual outfit – jean shorts and a blouse or a very casual dress. The soles are just so big and clunky that I don't see them as super cute.
Birkenstocks on the other hand, I'll wear with just about anything. I'll wear them to explore around town, on a date night, to church, or anything else really.
They look great with any outfit and are my go-to sandal for going out.
Value
Chacos are expensive but they are also durable and incredibly versatile. They will last you season after season without fail. I truly believe that they are a great value.
I do wish Birkenstocks would last a bit longer because they are also expensive but I do wear them much more often than my Chacos. In the summer they are what I choose for daily wear.
So it all evens out and I do think that both are worth the price tag.
Wet Conditions
If I am going to be out in wet conditions in warm weather then there's no question – I'm wearing my Chacos.
Usually, the straps will dry within an hour or two of getting wet depending on the sun and wind that day. The grip of the sole is also incredibly handy for wet conditions.
Birkenstocks are definitely not something I would wear in wet conditions. Honestly, I don't even like being caught out in the rain in these shoes.
Like I said, they turn your foot brown and the cork in the sole starts cracking quicker.
Other Outdoor Activities
Anytime I'm doing something outdoors in warm weather I'm choosing my Chacos. These really are a powerhouse when it comes to a great outdoor sandal.
They do great in the water and are comfortable for long hikes. They also provide good protection for the sole of your feet and the all-important arch support.
If you are an adventurous outdoors woman (or man) then I can't recommend these enough.
Again, Birkenstocks are not a shoe I would recommend for outdoor activities. This is my everyday shoe that I wear out and about to the office, running my errands, or dressing up for a night out.
Chacos vs Birkenstocks: Which Sandals Are Best?
So here is the ultimate question. In the comparison of Chacos vs Birkenstocks, who wins?
Well, I think it's hard to compare the two since their purposes are so different.
If you are looking for a sandal to wear outdoors and you would wear Chacos around town as well then for sure go with the Chaco sandals.
However, if you don't like the style of the Chacos and you are looking for something for everyday wear then buy the Birkenstock sandals.
You can't go wrong with either one. It all depends on what you are looking for in a new pair of shoes.
If you are looking for an outdoor sandal though I recommend you compare the Chacos vs. Tevas.
Like this post? Pin it for later!