This summer was the first time I had been to a theme park in years. I spent three days in Universal Studios at the end of April and two days in Busch Gardens Williamsburg in July. That does a number on your feet! It sent me searching for the best shoes for theme parks.
It is so important to have comfortable walking shoes for an amusement park but you'll also want to think about wearing water shoes if you plan on riding the water rides.
Honestly, there are some incredible theme parks in the US. Whether you plan on visiting Walt Disney World, Universal Studios Orlando, or Busch Gardens Williamsburg here are some of the best shoes for theme parks that you can buy!
Disclaimer: This post may contain affiliate links. If you make a purchase through this link, I may earn a small commission at no additional cost to you. Thanks for keeping Stuck On The Go going!
What To Look For In Theme Park Shoes
Comfort
This is the main thing I would look for in the shoes you want to wear to a theme park. Make sure that they will be super comfortable as you'll be standing most of the day.
If you have bad feet then you'll want a pair with good arch support as well.
Durability
You don't want a dinky pair of flip-flops that you'll wear once and then they'll fall apart. You want shoes that will last multiple seasons so you aren't having to constantly buy more.
Personally, I'll spend a bit more for a good pair of shoes as long as I know they'll last me 3-4 years. Sometimes even longer.
Multi-Use
The smart thing to do is to get some shoes that you can wear on multiple adventures. Find a pair that you can wear to the theme parks, take kayaking, or take on a day hike.
My Chaco sandals are perfect for this.
Water Resistant/Proof
If you love water rides then you may want to look at water sandals or water-resistant/proof sneakers. There are quite a few options like that on this list.
Another questions to consider: What the best shoes to wear in the rain at theme parks? Wearing some kind of water shoe means that if it rains, it won't be a huge deal for you.
Best Water Shoes for Theme Parks
Chaco Z Series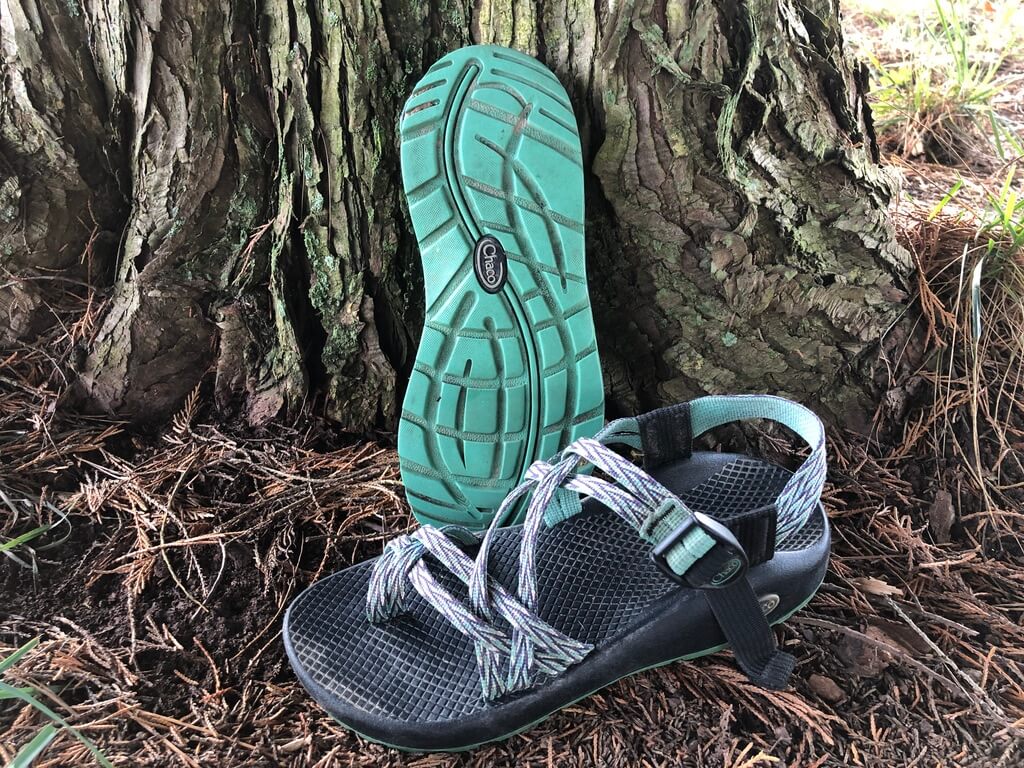 I have Chaco sandals and absolutely love them for all my outdoor adventures in the summer – especially for kayaking shoes. Anytime I know I'll be getting near water I wear these.
Personally, I love the multiple strap style with the toe straps. It makes me feel more secure. Some people find that the toe strap rubs their skin too much though.
These are definitely comfortable walking shoes though that have good arch support. Just know that if you don't have the straps pulled tight enough, then they will hurt your feet. That's what happened to me the first day but fixed it the second day!
Basically a good fit with these is super important. Keep adjusting the straps until you find what's right for you. In my opinion, these were the best shoes to wear to Universal Studios!
👉🏻 Click here to check prices on Chaco sandals. 👈🏻
Teva Hurricane XLT2
Made as hiking shoes, these Teva Hurricanes will stand up to whatever you put them through and they are an incredible walking shoe.
They come in fun patterns like the Chaco sandals and I actually purchased a pair just so I could compare them. You can read all about my Chaco vs. Teva thoughts.
These provide plenty of support and the straps are quick drying so no worries if you get them wet. These are some of the best sandals for theme parks that you can buy.
👉🏻 Click here to check prices on Teva Hurricane sandals. 👈🏻
Keen Whisper Sandals
Okay, do I like the look of these shoes? Not really. But there is no denying that Keen makes one of the best shoes for theme parks out there.
The shoes are comfortable for walking long distances and they dry quickly. After you've walked around in these for a day, you won't care how they look.
They come in multiple different colors and the Keen Whispers are cheaper than the Keen Astoria West and Newport H2 sandals.
👉🏻 Click here to check the price for Keen Whisper sandals. 👈🏻
Bedrock Cairn Adventure Sandals
For those of you who love to wear flip-flops, these are the perfect choice. This thong sandal is as comfortable as your favorite flip-flops but with a strap around your heel and better tread.
They have a Vibram sole and the shoe conforms to your foot like memory foam. However, there isn't much arch support so if you need that then choose a different shoe.
If you want to ride all the rides with your feet feeling as free as possible then check these out! Definitely one of the best shoes for Orlando theme parks.
👉🏻 Click here to check prices for the Bedrock Cairn Adventure sandals. 👈🏻
Crocs Isabella Strappy Sandal
Who knew that Crocs made a cute pair of sandals? I love my Crocs for kicking it around the house, but would never wear them out (however, they are bright purple).
If I had these I might change my mind though. These are cute and perfect for taking on the water rides since they'll dry incredibly fast.
Check these out for great amusement park shoes.
👉🏻 Click here to check prices for the Crocs Isabella sandals. 👈🏻
Birkenstock Essentials Arizona EVA
Everyone's favorite Birkenstock sandals are now made in a waterproof option! These will give you plenty of support, be comfortable all day, and they'll hold up to anything.
It's made out of EVA/rubber so they dry right after you get them out of the water. The only downside to these is that there is no heel strap. On rides where your feet dangle you'll have to take these off and either sit on them or place them at the exit gates.
These would be perfect shoes to wear in the rain at theme parks though!
👉🏻 Click here to check prices for the Birkenstock Arizona sandals. 👈🏻
Camel Crown Waterproof Hiking Sandals
These look a lot like Teva Sandals but are a much cheaper option. They do just fine when they get wet and many people use them for hiking.
They have a good selection of fun colors and for the price they hold up incredibly well. If you've been wondering what shoes to wear to Universal Studios, these would be a great pick.
👉🏻 Click here to check prices on the Camel Crown hiking sandals. 👈🏻
Skechers Women's On-The-Go Sport Sandal
The widely known tennis shoe manufacturer also has a great choice for comfy sandals. They have lots of neutral color choices and even have a wide size option.
These are perfect for everyday wear in addition to bringing them along on your theme park vacation. A comfortable option for sure!
👉🏻 Click here to check prices on the Skechers sandals. 👈🏻
Keen Astoria West Sandals
Keen shoes are just too good not to have multiple options on here. The Astoria West sandals are pretty similar to the Whisper but the upper portion of the shoe is just a slightly different design.
These are still great water sandals and have the bungee cord system instead of laces. Keen definitely makes one of the most comfortable walking shoes for amusement parks.
👉🏻 Click here to check prices for Keen Astoria sandals. 👈🏻
Best Sneakers for Theme Parks
Astral Brewess 2.0
If you want the best of both worlds and want to wear sneakers that are also water shoes then the Astral Brewess is the jackpot.
It wears like a tennis shoe, but has drainage holes in the front and back, is made of quick drying material, and has a built-in liner so you don't have to wear socks.
These were made for taking down the river and walking along slippery rocks but they will do a great job on your theme park vacation. I wear mine even when I don't plan on getting near water!
👉🏻 Click here to check prices for Astral Brewess shoes. 👈🏻
Allbirds
If you are looking for a sustainable sneaker option then look no further than Allbirds. Their sneakers are made from one of two materials – either merino wool or natural tree fibers.
I have the Women's Wool Runners and love them! One of my favorite parts is how sleek they look so they're a great travel shoe and super versatile.
A couple of things to note – the Wool Runners do get hot, especially on warmer days so depending on when/where you want to wear them take that into consideration. I've been debating on ordering Tree Runners to test them out. Also, these don't have a ton of support but I feel like it's enough for me.
These shoes are machine washable and the materials minimize odor in case you want to live the no sock life. I don't usually go with no socks but these shoes are surprisingly comfortable without them.
👉🏻 Click here for the best price on Allbirds shoes. 👈🏻
*You can use the link above and get a free pair of socks with your purchase! Just add the socks to your cart and the discount should be applied when you go to check out.
Hoka Bondi 7 Tennis Shoes
These are the tennis shoes that I have and I am OBSESSED. I tell anyone who will listen about them honestly. I just wore them all around Dollywood and they were fantastic.
Hoka makes a few different fantastic tennis shoe options. While some of them are a bit expensive, they will hold up well and are worth the money. Again, well worth the money.
Most of these options are running shoes so you know there will be plenty of cushion in the footbed. Personally, I love the bright colors available too. Especially the bright blue.
These are definitely some of the most comfortable shoes to wear to theme parks.
👉🏻 Click here to check prices for Hoka Bondi 7 shoes. 👈🏻
Sorel Out 'N About
I love the unique look to these plus they are waterproof! So if you are just getting splashed a bit your feet will stay dry. They can keep your feet dry in the rain too.
These are also super cute and eye-catching. They are comfortable as soon as you put them on and don't require any break-in period!
👉🏻 Click here to check prices for the Sorel Out N' About shoes. 👈🏻
Teva Gateway Low
Teva just had to make an appearance for the sneakers as well as water shoes. These are water-resistant so not a bad choice for the water rides either.
They require a bit of break-in and maybe don't look as good as some of the other options. BUT like the Astral shoes, you can wear these to walk around a theme park, out around town, or on a day hike somewhere.
Pretty versatile if you ask me!
👉🏻 Click here to check prices on the Teva Getaway Low shoes. 👈🏻
Brooks Women's Ghost Running Shoes
These are phenomenal tennis shoes and perfect for a trip to Disney World or any other theme park. They really are built for comfort and anyone who spends a lot of time on their feet should look into these.
If you have lower back issues then these shoes can also help alleviate pain from walking. If you're looking for the best theme park walking shoes then these may be your pick.
👉🏻 Click here to check prices on Brook's Ghost running shoes. 👈🏻
New Balance Women's 577 V5 Crosstrainer
Honestly I never thought I would be recommending New Balance, but here we are. These are priced VERY reasonably and they come in plenty of different colors.
It's the perfect casual walking shoe for a day out on the town or walking between rides.
👉🏻 Click here to check prices on the 577 V5 Cross Trainer. 👈🏻
Adidas Women's Cloudfoam Pure Running Shoe
With tons of different colors to choose from you can get a pair for every outfit! These are pretty affordable as well, especially when they go on sale.
If you need a lot of support though, then these shoes aren't for you. But if you like the barely-there feeling, these are perfect!
👉🏻 Click here to check prices for the Adidas Cloudfoam shoes. 👈🏻
Shoes for Theme Parks FAQ
What shoes should I wear to an amusement park?
Find something that is comfortable for your own foot and don't take looks into consideration. Okay, maybe a little, but I wouldn't wear shoes to a theme park just because I thought they were cute.
I find that hiking sandals or sneakers work best for me. My personal favorites are the Chaco sandals or Hoka One One sneakers.
Should I wear flip-flops to an amusement park?
Sure! I would show preference to flip-flops that have a heel strap – so more like sandals. But if you like flip-flops then there are some great options out there for good amusement park shoes.
How do you keep your feet from hurting at amusement parks?
Picking the right shoes is number one! You'll also want to take breaks throughout the day – our breaks are typically while we're sitting down on the rides and then when we take a break to eat.
If you're visiting the theme park for multiple days then change up your footwear. Maybe bring one pair of sandals and one pair of sneakers so you can switch off.
Should I wear sneakers to an amusement park?
If that's what you're comfortable in! Sneakers are a great option and one of the best shoes for Orlando theme parks (or any other for that matter).
Just make sure you try them on and know you love them before you head out for vacation.
What are the best shoes to wear to Universal Studios?
There are a good number of water rides at Universal so if you plan on getting on those, you'll want a good water shoe. Water sandals are definitely my pick.
I keep saying it, but my Chacos are definitely the best sandals for theme parks in my opinion.
Best Shoes for Theme Parks Recap
Whether you're looking for the best Disney walking shoes or the perfect sandals to carry you around a water park, these are the absolute best shoes for theme parks that I could find!
Don't skimp out on the shoes that you wear. Your feet and back will thank you later. Plus you don't want to be exploring Harry Potter World (or any other section of a park really) in pain!
Making sure you have great walking shoes will make your vacation so much better!
Pin this post to save for later!